The skies over Lake County on Saturday were clear, stable and full of bright eyes as the Experimental Aircraft Association (EAA) Chapter 414 hosted a Young Eagles Rally on Waukegan Airport's south runway. The event gave young aviation enthusiasts ages 8 to 17 a chance to experience the thrill of flying in a general aviation airplane. The rally not only ignited the passion of young people, but also showcased the larger aviation community of the region and the volunteer work that makes such events possible.
Among the participants were both first-time fliers and budding aviators who have flown frequently before. The event brought together 35 eager kids, 27 of whom had registered online in advance, while 8 signed up on the day of the rally.
The flight path for the Young Eagles Rally was nothing short of spectacular. Taking off from Waukegan Airport, youth and their pilots began by cruising over Six Flags great America before soaring eastward towards The Waukegan Harbor the Waukegan Harbor before soaring westward towards Six Flags Great America. Their flights concluded by skimming along the lakefront near Zion. The adventure lasted about 15 minutes before landing back at the airport. Youth were given the opportunity to ride as passengers, try out flight controls, and speak with pilots and the airport's control tower via headset.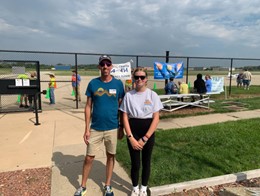 Hailey, 14, from Round Lake Beach stands side-by-side with her instructor pilot, Mat Koschak. Hailey was first introduced to general aviation at an EAA event in Oshkosh, WI. She took her first flight on Saturday.
But the experience isn't just about the flight – families arriving at the event were greeted by EAA members who conducted informative sessions about aircraft safety and flight controls. Participants were then brought on to the runway where they learned about the planes and their volunteer pilot.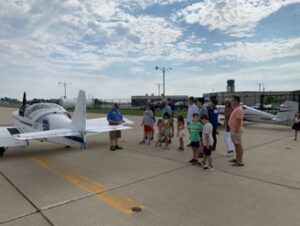 Families learn about an RV-6A prior to taking light.
Following their flights, the Chapter's Young Eagles Coordinator, Patty Ramsdell, follows the tradition of submitting the flight information to EAA Headquarters and the official EAA logbook – one of the largest flight logbooks in the country with over 2 million recorded flights.
Now in its thirty-first year, the EAA Young Eagles program has proven to be successful, with youth going on to pursue careers in aviation, military and leadership. The EAA Young Eagles Manager, David Leiting, is a product of the program himself. "I took an EAA flight in 2002 and was immediately interested in flying again. I've attended events in Oshkosh every year since and received my pilot license eight years ago," said Leiting.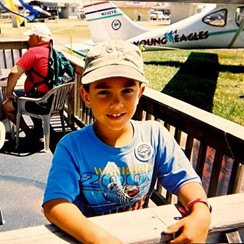 David Leiting before his first Young Eagles flight at EAA AirVenture Oshkosh 2002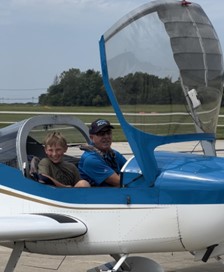 Jonny, 12, arrives back at Waukegan Airport following his Young Eagles flight across Lake County.
None of this would be possible without the unwavering commitment of EAA volunteers and pilots. On-site, 9 dedicated volunteers and 6 passionate pilots joined forces to create this memorable day. The EAA pilots all generously offered their time, aircraft, fuel and equipment to make the day a success.
"Promoting general aviation is so important and events like today help bring our community together. It also brings in people who may have never been to the airport before. It is a perfect opportunity for not only youth, but also their families to learn about these aircrafts, flight safety and the local airport," said Chapter 414 Young Eagles Coordinator Patty Ramsdell.
This event not only introduced neighbors to the world of aviation, but it also served as a reminder of the power of the aviation community, the dedication of volunteers and the joy of Lake County's skies.
About EAA
The Experimental Aircraft Association (EAA) is based in Oshkosh, Wisconsin, and embodies The Spirit of Aviation through the world's most engaged community of aviation enthusiasts. EAA's 280,000 members and 900 local chapters enjoy the fun and camaraderie of sharing their passion for flying, building and restoring recreational aircraft. For more information on EAA and its programs, call 800-JOIN-EAA (800-564-6322) or go to www.eaa.org.
About Young Eagles
Launched in 1992, the Young Eagles program has dedicated 30 years to giving youth ages 8–17 their first free ride in an airplane. It's the only program of its kind, with the sole mission to introduce and inspire kids in the world of aviation. Today, over 2.3 million young people have enjoyed a free introductory flight through the Young Eagles program. These flights are made possible through the generosity of EAA member volunteers. Learn more about Young Eagles at www.eaa.org/eaa/youth/free-ye-flights