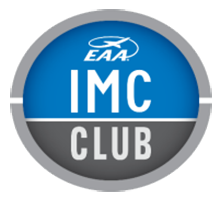 The IMC Club's purpose is to help "Instrument Pilots" and aspiring instrument pilots improve their proficiency and their decision-making processes, to promote instrument flying, and to improve safety.
The intent is to create a community of pilots willing to share information, provide recognition, foster communications, promote safety, and build proficiency in instrument flying.
The Club meets at 7pm on the third Wednesday of each month, January thru November, alternating venues between Stick & Rudder and Skill Aviation, both on the North Ramp of UGN.
The format is fairly informal, starting with the video presentation of a challenging flight scenario. The group then breaks up into multiple smaller groups; each group develops an approach/solution and then the groups
reconvene to discuss the alternates. The scenarios typically have potential multiple results and the goal is to get everyone thinking and considering alternatives. For the most part, there are no "right" answers (although
we have found a couple of "wrong" ones, so far.)
This is organized hanger flying and meetings typically last 1 to 1.5 hours. Participants frequently bring along I-Pads or other EFBs for reference.
Each meeting is typically announced on www.faasafety.gov and is eligible for Wings credit. Advance registration is recommended but not required.
Following is the schedule for 2017:
1/18/17 Skill
2/15/17 S&R
3/15/17 Skill
4/19/17 S&R
5/17/17 Skill
6/21/17 S&R
7/19/17 Skill
8/16/17 S&R
9/20/17 Skill
10/18/17 S&R
11/15/17 Skill
One new goal for 2017 is to develop a "Safety Pilot's Database" of members willing and interested in serving
as safety pilots for those working on maintaining their proficiency.
Contacts:
Bob Hamilton, Chairman 847-344-4494 rhamilton@gha-engineers.com
Sam Battaglia, Secretary 847-772-8230 sambatt@comcast.net